Table of Contents
FCC PRESENTED WITH ADVERTISING STUDY
WHICH REVEALS A TALE OF TWO SYSTEMS;
Study Shows Broadcasters Serving the Minority Community
Earn Less Per Listener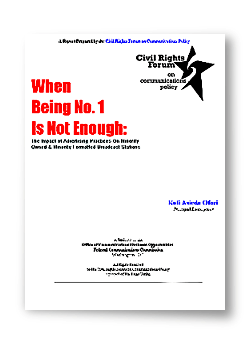 Stating that "Minority broadcasters should have a fair opportunity to compete for ad dollars," FCC Chairman William Kennard was presented with a study and conducted a forum on the impact of advertising practices on minority-owned and minority-formatted broadcast stations. Immediately following the release of the study, Chairman Kennard joined high-level representatives from the broadcasting, advertising and civil rights communities to discuss the study's findings and plan future actions. Listed below are the written remarks distributed by participants in that discussion.
All the Files Below are in Adobe Acrobat (PDF) Format Unless Otherwise Indicated
To view Adobe Acrobat files: you must have the Acrobat Reader software installed on your computer and configured as a "helper" or "plug-in" application in your browser. If not, you need to download, install, and configure the free Adobe Acrobat Reader Software.
Synopsis (HTML) and Highlights ii


Acknowledgments vi


List of Tables and Charts viii


Appendices ix



A The Impetus for this Study 1

B The Research Objective 7

C Methodology 9

D Summary of Major Findings 12

E Policy and Research Recommendations 18


1 Further Research Recommendations 18

2 Policy Initiatives 19

3 Private Sector Initiatives 21

4 Serving the Public Interest 21

II Radio 25

A The Media Buying Process 25

B "No Urban/Spanish Dictates" and
"Minority Discounts"-- What Are They & Why are They? 27


1 No Urban/Spanish Dictates Examined 27

2 Minority Discounts Examined 34

3 Rationales for "Dictates" and "Discounts" 36

4 Current Marketplace Developments 54


B Quantitative Analysis 67


1 The Relationship between
Audience Demographics and Program Format 68

2 Disparities in Advertising Performance
in Terms of Program Format and Minority Ownership 71


a Power Ratios by Program Format 72

b Station Revenues by Program Format 75

c Advertising Performance by
Minority Ownership and Ownership Size 77

d Cost Per Point as a
Measure of Advertising Performance 84


3 The Impact of Ownership
Size on Advertising Performance 86

4 Market Consolidation,
Advertising Practices and Access to Capital 89


D Recommendations for Further Research 92

III Minority-Owned Television95

A Results of the Survey Questionnaire95


1 The Relationship Between
Minority-Oriented and Spanish
Language Programming and Advertiser Support96

2 The Relationship Between
Ownership and Control by
Minorities and AdvertiserSupport98

3 The Relationship Between
Minority Sales Staff and Advertiser Support100


B Recommendations for Further Policy Analysis101

IV Conclusion103

Appendices
Appendix A Overview of Media Planning
Appendix B Relevant Provisions from the Communications Act of 1934, as Amended; Non-Discrimination in Advertising Act of 1991
Appendix C List of Individuals Interviewed
Appendix D Frequency Distribution Tables of Stations by Market Rank

Appendix E Article by Minority Markets Alert

Appendix F a Ratings Council Board Members and Accredited Services

Appendix G 1996 Congressional Hearing on Audience Rating Research

Appendix H Federal Trade Commission Guidelines on Audience Ratings Claims

Appendix I Analysis of the Impact of Audience Measurement Tools

Appendix J Survey Questionnaires

Appendix K Glossary, BIA Explanation of Station Revenue Estimates, and BIA Program Format Categories

Appendix L "Analysis of Hispanic and Urban Formatted Stations in the Top 50 Markets," BIA Research, Inc, 1998

Appendix M "Share-to-Revenue conversion Ratios" Duncan's American Radio, Inc, May 1997




List of Tables and Charts


Table 1: Washington, DC - Top Rated Stations6
Table 2: Comparison of Minority and Majority Broadcasters by Format79
Table 3: Comparison of Minority and Majority Broadcasters by Format (Markets 1 - 100) 82
Table 4: Comparison of Minority and Majority Broadcasters by Format (Markets 101-265) 83
Table 5: Comparison of Costs to Reach One Thousand Listeners: Black vs General Market Listeners 84

Chart A: Percentage of Stations with Minority or General Market Format by Owner Race/Ethnicity 23
Chart B: Median Family Income by Race/Ethnic Group - 1995 61
Chart C: Black and Hispanic Household Earnings Estimates - 1996 62
Chart D: Average Annual Black Household Expenditures 1995 63
Chart E: Percentage of US Population by Race/Ethnic Group 1995-2050 64
Chart F: EBI for Total Population and % Minority Population 65
Chart G: Minority-Formatted Stations by Ethnic/Racial Ownership 66
Chart H: Minority Listenership by Format 70
Chart I: Average Household Income by Format 70
Chart J: Power Ratio by Program Format & Owner Race/Ethnicity (1996)73
Chart K: Station Revenues by Program Format & Owner Race/Ethnicity (1996) 77
Chart L: % of Stations Owned by Market Rank 81
Chart M: National Station Ownership and Station Revenues 88
Chart N: Local Ownership and Station Revenues 88