FCC Telephone Consumer Complaint Scorecard
December 1998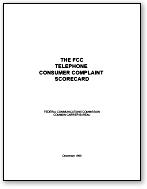 Today there are more than 600 long distance companies vying for your business with a dizzying array of calling plans and other service offerings. Such fierce competition has resulted in the lowest long distance rates ever. In 1987, for example, the average per-minute rate was 17 cents. At the end of last year, the average per-minute rate was 10 cents, with discount plans' rates now as low as 5 cents a minute.
A competitive market also means that consumers need to make informed choices about their telephone service. We are publishing this information to give customers information which they may want to consider as they choose between telecommunications providers.
As the FCC works to promote competition in all segments of the telecommunications industry, we will continue to take enforcement action against those companies that do not compete fairly and harm consumers. To do so, we rely in part upon you, the consumer, to alert us to unfair practices.
This first edition of this quarterly Complaint Scorecard provides information to assist you in navigating the competitive landscape. Of course, many factors may be taken into account when selecting a telecommunications provider, such as the service quality, price, and convenience of an offering. We hope you will find this publication a useful tool as well as a reminder that your voice does count.
William E. Kennard
Chairman
Federal Communications Commission
---
See Also: The 1998 Common Carrier Scorecard Annual Report
1/15/99